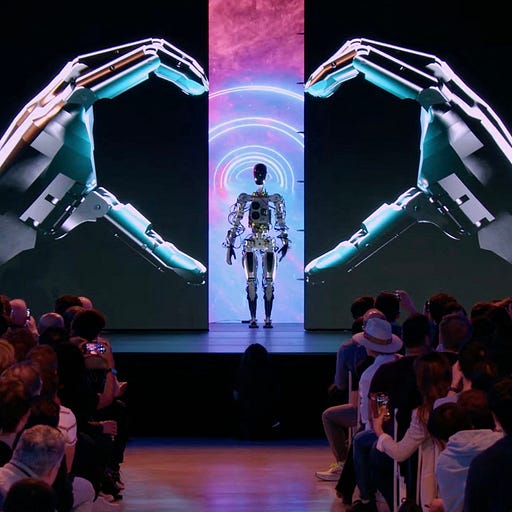 Oct 13, 2022 • 47M
LWiAI Podcast #109 -Tesla Bot, Text-to-Video, Speech-to-Text, AI Voices Darth Vader
Humanoid robot prototype at Tesla AI Day, OpenAI open-sources a multilingual speech recognition system, Darth Vader's Voice Emanated From War-Torn Ukraine, and more!
Weekly AI summaries and discussion about Last Week's AI News! Subscribe over at https://www.lastweekinai.com/
Our 109th episode with a summary and discussion of last week's big AI news!
Subscribe
If you are a fan, we'd appreciate your feedback! Feel free to let us know your thoughts via a review on Apple Podcast, email to contact@lastweekin.ai, or just DM us on Twitter!
Outline:
(00:00) Intro
(03:08) Elon Musk shows off humanoid robot prototype at Tesla AI Day
(07:15) It's not just floods and fires: This AI forecasts how climate change will impact your city 
(10:00) Artificial Intelligence Spending Grew 20.7% Worldwide in 2021, According to IDC
(10:52) Tesla is being sued over Autopilot and Elon Musk's Full Self-Driving predictions 
(11:50) Uber Eats and Nuro sign a 10-year deal to do robot food delivery in California and Texas 
(13:00) Announcing the PyTorch Foundation: A new era for the cutting-edge AI framework
(13:45) Meta's new text-to-video AI generator is like DALL-E for video , Google answers Meta's video-generating AI with its own, dubbed Imagen Video
(19:05) OpenAI open-sources Whisper, a multilingual speech recognition system
(23:00) Can eyes on self-driving cars reduce accidents? Cues from moving eyes could help pedestrians anticipate vehicle's intentions
(24:00) Why DeepMind Is Sending AI Humanoids to Soccer Camp
(25:00) How Transformers Seem to Mimic Parts of the Brain 
(25:30) NVIDIA's new AI model quickly generates objects and characters for virtual worlds
(26:45) Clearview AI, Used by Police to Find Criminals, Now in Public Defenders' Hands , House Democrats debut new bill to limit US police use of facial recognition
(30:30) Artist receives first known US copyright registration for generative AI art 
(33:14) Getty Images bans AI-generated content over fears of legal challenges
(34:00)  A.I. Is Making It Easier Than Ever for Students to Cheat
(34:50) There's no Tiananmen Square in the new Chinese image-making AI
(35:45) US to invest $50 billion in spring 2023 as it looks to counter Chinese chip development 
(36:25) Darth Vader's Voice Emanated From War-Torn Ukraine
(39:40) I Resurrected "Ugly Sonic" with Stable Diffusion Textual Inversion
(43:00) Artist uses AI to extract color palettes from text descriptions
(43:55) Hellblade developer Ninja Theory confirms it won't replace voice actors with AI
(45:35) Outro